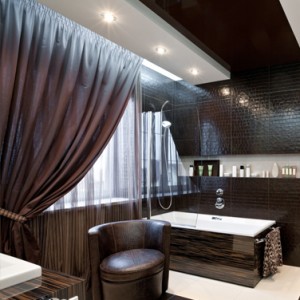 As much as the kitchen is a room where everyone seems to congregate during dinner parties, the bathroom seems to be that place for families. Anyone with kids will tell you that it is almost impossible to go the the bathroom alone. There is usually a little pair of feet under the door at some point. Little ones learn how to use the potty, make bubble beards in the bathtub and help mommy put on makeup. This is a lot of activity for such a relatively small room. A family's life seems to revolve around the bathroom. Shouldn't it be the safest and most inviting room in your home?
New Parents
Let's say you and your partner have had some big news lately. The family is growing and it may be time for a bathroom renovation. Families without children do not think about the safety aspects of bathroom storage, it's simply not an issue until you have kids. Now that kids are a possibility, it is time to begin reimagining the way you store chemicals, pills and cleaning supplies. Micro Federal Solutions can design custom cabinetry for the bathroom, complete with child proofing!
The safety of your children is the most important thing to a parent, we can recommend the best way to make your bathroom as safe as possible. For the new parent, we may even recommend a built in espresso maker! So take back your bathroom, as it will be the room in your house that sees as much family time as the kitchen.